Digital Thermostats Repair Installation and Maintenance
Digital Thermostats Repair, Installation and Maintenance in Port Huron, Fort Gratiot, and Marysville
If you are like most people, you never give a second thought to your home thermostat. However, if your thermostat malfunctions you are going to face serious problems with your heating and cooling systems. When you need digital thermostat repair, you can depend on us for efficient, quality affordable service.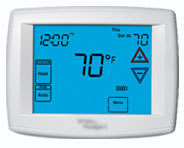 Is it time to consider upgrading?
One of the challenges many people face with the thermostat is where it was placed originally. In fact, a poorly placed thermostat can have a significant impact on your home energy bills. Some of the factors that can impact how consistent the temperature is in your home based on thermostat placement include:
Too close to windows — if your thermostat is too close to windows or outside walls, chances are your heating and cooling systems will run harder to maintain the temperature you set on the thermostat.
Room with high ceilings — if there are high ceilings in the room where the thermostat is located, that could spell trouble.
Chances are that as heat rises, the temperature near the thermostat will change. This could result in higher energy bills than are necessary.
Call Us Today! 810-385-2665
One of the best solutions for all your home heating and cooling temperature control problems is a zoned comfort system. These systems provide you with the ability to set the temperature in every room in your home individually. Imagine never having to worry about heating or cooling an empty room, knowing every room in your home is the same temperature and knowing that you are saving money at the same time.
If you need digital thermostat repairs we can help. We service all makes and models. However, if it's time to consider upgrading your digital thermostat, you can speak with one of our energy specialists to find the right digital thermostat system for your home. Every home is different and the right thermostat can make a difference in your overall energy costs.
TALK TO AN EXPERT BY CALLING
810-385-2665